FIRST® Robotics Competition (FRC®)
History Main | 2000: CO-OPERTITION FIRST™ | 2001: DIABOLICAL DYNAMICS™ | 2002: ZONE ZEAL™ | 2003: STACK ATTACK™ | 2004: FIRST FRENZY - RAISING THE BAR™ | 2005: TRIPLE PLAY™ | 2006: AIM HIGH™ | 2007: RACK 'N' ROLL™ | 2008: OVERDRIVE™ | 2009: LUNACY® | 2010: BREAKAWAY™ | 2011: LOGOMOTION™ | 2012: REBOUND Rumble™ | 2013: ULTIMATE ASCENT™ | 2014: AERIAL ASSIST™ | 2015: Recycle Rush™ | 2016: Stronghold™ | 2017: Steamworks™ | 2018: POWERUP™ | 2019: DESTINATION: Deep Space™
2008: FIRST OVERDRIVE™
The Hauppauge Robotic Eagles Would Like to Give
Special Thanks to These Wonderful People:
We often don't realize just how many people are involved in making our FIRST program such an outstanding success. We know them all of course, but when you stop and add them all up there are a
lot
of people striving to give our students this outstanding opportunity.
School Advisors
Mr. Scott Kraft for volunteering to be our teacher advisor this year, for his enthusiasm, and dedication.
Mr. Mark McLeod for helping not only us, but seemingly every other FIRST team on Long Island
Mentors
Scott Schuler for being one of the principle driving forces behind our team from the very beginning
Manny Morales for creating our scouting program and mentoring our scoutmasters
Jim Chant for mechanical designs and dedication to a team far from his home.
Gary DiBiccari for prototyping, ideas, and helping everywhere he's needed
Joe Citro for electrical expertise and mentoring, CADing, and Fonar support
Gary Fortmeyer for electrical expertise, prototping, ideas
Pete Solaski for electrical & programming workshop support
Fred Richter for programming workshop support, robot & field construction, and our new FIRST logo shingle to hang outside our door
Susan Frank for programming workshop mentoring, chaperoning trips, and Booster Club support
Dulcie McLeod for mentoring and editing the Chairman's and Woodie Flowers awards
Pat Hughes for his invaluable expertise and help in installing, setting up, and training our students on our new milling machine
Frank Saladino for his invaluable expertise and help in installing, setting up, and training our students on our new milling machine
Booster Club
The Parent Booser club supports us with fundraising, travel, keeping us in the eye of the Board of Education, and allowing us to stay at the school until all hours of the morning
Rose Morales - Madame President and "do everything" kind of person, and for giving up the PTA for us
Teresa Ferraro - Travel & Fundraising Coordination/Planning, East/West Sponsorship
Eileen Mass - Chaperoning trips, Team Supply Ordering, BOE Support
Susan Frank - Chaperoning trips, programming workshop Mentoring, Booster Club Support
Linda Esposito - Magnet and Misc. Fundraising Corrdination, Recordkeeping
Gail Burstein - Working Fundraisers with Student Members
The Bixson Family - Managing Flower Fundraiser - Booster Club Support
Cindy & Mark Clifford - Coordinating Corporate Sponsorships, Homecoming, anything else we ask them to do
Janet Kohilakis - team photos
Lisa McMahon - Shopping and set-up for the Oldies Concert Fundraisers
Marti White - Kick-off, Booster Club Support
All the parents who have worked the fundraisers, car washes, donated snacks, etc....
Hauppauge School District
For starting our FIRST program in Hauppauge and allowing us to work with professional engineers and compete.
Superintendant Patricia Sullivan-Kriss for outstanding support of the FIRST program, obtaining grants for this year's essential new equipment- a mill and arbor press, including volunteering as the Long Island Superintendant representative on the School-Business Partnerships of Long Island (SBPLI) Council and Board.
Principal Christine O'Connor for bringing in teacher advisors, scheduling and deconflicting fundraisers, coordinating the Homecoming parade
HUFSD Board of Education for their funding, appointment of advisors, permission for trips, and other support
Science Dept. Chair Rob Wankmuller for his constant administrative support of the team.
Organizations
These people provided us with technical assistance, such as special parts machining and water jetting that we don't have the ability, equipment, or skill to do in-house (yet!).
East West Industries and the Ferraro family for their help in machining parts

Dom and Mary Spinosa - Owners
Frank Knoll - Engineering Manager
Doug Trumpa - R&D Machinist

Fonar for their machining support especially,

Bill Wahl, VP Engineering
Chris Spinoza, Milling Supervisor
Karl Schussman, Machinist, Milling
Enrique Medina, the welding for the tower, frame, arms
Jeff Hargrave, Water Jet Supervisor
Victor Diaz, Water Jet Operator
Joe Nieckarz, "Fonarizing prints"
On a side note we wish Fred Pierce who helped us last year, but is out for double knee replacement, a speedy recovery.

Anorad for their excess of materials that teams across the island took advantage of

Darius Bobelis, Director of Linear Motors
Bill Scurry, Facilities
School-Business Partnerships of Long Island (SBPLI) - Long Island FIRST (LI FIRST)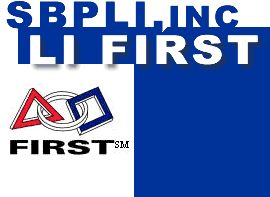 SBPLI is the non-profit umbrella organization that picked FIRST back in 1999 as the focus of their efforts to bring high schools and businesses together to support each other. SBPLI raises the massive amount of funds necessary to run our local competition at Hofstra, support the growth of new teams, as well as, support all of Long Islands existing veteran teams. We help them put a human face on what they are striving to accomplish with robot demonstrations and students to talk to potential sponsors and partners. Some of the SBPLI events we've supported include fundraising dinners, business galas, trade shows, presentations to Long Island school district superintendents.
LI FIRST is an offshoot of SBPLI and is the group responsible for the actual organizing of new teams and the FLL and FRC events and the massive number of volunteers needed to run them all and insure they become self-sustaining. Our Regional Director heads this group and works tirelessly with all Long Island school districts to get FLL and FRC teams started, robotic curriculums, scholarships, enlist volunteers, organize the volunteer Planning committees for FLL and FRC local, regional, and off-season events on Long Island.
And of course all of
our Sponsors