FIRST® Robotics Competition (FRC®)
History Main | 2000: CO-OPERTITION FIRST™ | 2001: DIABOLICAL DYNAMICS™ | 2002: ZONE ZEAL™ | 2003: STACK ATTACK™ | 2004: FIRST FRENZY - RAISING THE BAR™ | 2005: TRIPLE PLAY™ | 2006: AIM HIGH™ | 2007: RACK 'N' ROLL™ | 2008: OVERDRIVE™ | 2009: LUNACY® | 2010: BREAKAWAY™ | 2011: LOGOMOTION™ | 2012: REBOUND Rumble™ | 2013: ULTIMATE ASCENT™ | 2014: AERIAL ASSIST™ | 2015: Recycle Rush™ | 2016: Stronghold™ | 2017: Steamworks™ | 2018: POWERUP™ | 2019: DESTINATION: Deep Space™
2017: Steamworks
FIRST Game Description - Steamworks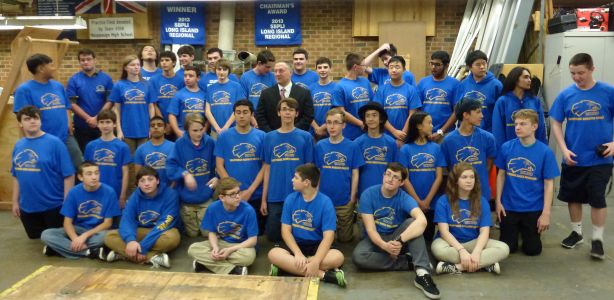 Beta Testing for the 2017 season
We were asked back to be one of the 2016 Control System Beta Testing teams and received upgrades to the LabVIEW software for the robot control system in mid-October. Our objectives include creating a benchtop test hardware setup, installing the new system on an old robot, testing extreme conditions and whatever else we can think of to stress the new system. We're responsible for recommending improvements to the user documentation, identifying software and hardware issues, and making suggestions for adjustments.
Hauppauge's Homecoming
parade was on a bright sunny day this year. We took two older robots on the trailer, however, we neglected to check our batteries which turned out to all be almost completely discharged. Candy was distributed to the parade crowd by hand rather than by robot.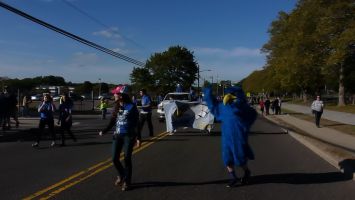 Safe Halloween
At Hauppauge on Saturday we tied a recycle bin to the Recycle Rush robot's elevator and let the trick or treaters, that came to the high school's pre-Holloween indoor/afternoon celebration, attempt to throw a nerf basketball into the can while the robot sometimes avoided them and sometimes helped them make a basket for a candy reward. After the toss the robot would drive up to the child to offer them a choice of candy in the bin. Our Rebound Rumble robot would occasionally also tosss basketballs into the Recycle Rush robot as a demonstration.
Half Hollow Hills Invitational
This one was on the third Saturday of November. Another fun off-season competition where lots of team members got the opportunity to drive our last season's robot in competition.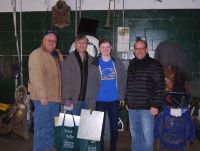 Gershow Aluminum Donation
Gershow moved up their annual donation to Long Island teams to Saturday, December 3. Last year the regular weekend in January turned into an extreme snowstorm and cancelled the event, except for two hardy teams who braved the slick roads and blinding visibility. Gershow sets aside 5 or so 4'x4' bins of scrap aluminum for the teams to pick through for valuable robot raw material.
We demonstrated, as usual, at our
Middle School Science Fair
in January. It's an annual robot demonstration at the Middle School during their science fair open house after hours for the parents to come and see and old & young get to try their hand at driving.
Our programmer got to play with the full robot early theis year. The drivetrain and gear handler were done early enough for driver tryouts. But the fully functional/wired robot was programmed two whole days before Bag & Tag (last year it was about two whole hours)!
The climber pulled 40amps or less from a Mini-CIM, the xbox controller had sticky joysticks and didn't zero everytime (so the Brake mode on the motor controllers didn't kick in reliably).
Competition
We will compete at the
Tech Valley Regional
and the
SBPLI Long Island Regional
this season.
Pictures:
General Season Videos