FIRST® Robotics Competition (FRC®)
History Main | 2000: CO-OPERTITION FIRST™ | 2001: DIABOLICAL DYNAMICS™ | 2002: ZONE ZEAL™ | 2003: STACK ATTACK™ | 2004: FIRST FRENZY - RAISING THE BAR™ | 2005: TRIPLE PLAY™ | 2006: AIM HIGH™ | 2007: RACK 'N' ROLL™ | 2008: OVERDRIVE™ | 2009: LUNACY® | 2010: BREAKAWAY™ | 2011: LOGOMOTION™ | 2012: REBOUND Rumble™ | 2013: ULTIMATE ASCENT™ | 2014: AERIAL ASSIST™ | 2015: Recycle Rush™ | 2016: Stronghold™ | 2017: Steamworks™ | 2018: POWERUP™ | 2019: DESTINATION: Deep Space™
2019: Destination:Deep Space
FIRST Game Description - Destination: Deep Space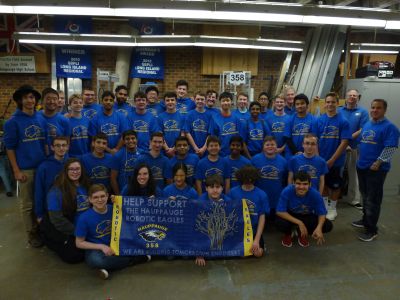 We welcome a new faculty advisor, Mr. Gibson, this year!
Beta Testing for the 2018 season
We were again one of the 2019 Control System Beta Testing teams and received upgrades to the LabVIEW & Java software for the robot control system in mid-October. Our objectives include creating a benchtop test hardware setup, testing extreme conditions and whatever else we can think of to stress the new system. We're responsible for recommending improvements to the user documentation, identifying software and hardware issues, making suggestions for adjustments, and complementing FIRST and suppliers on their improvements.
Hauppauge's Homecoming
parade was on a bright sunny day this year. We took our tried and true candy tossing robot on the trailer.
Safe Halloween
Cancelled this year due to a storm.
Half Hollow Hills Invitational
This had to be moved to October this year. Another fun off-season competition where lots of team members got the opportunity to drive our last season's robot in competition.
Gershow Aluminum Donation
Gershow held their annual donation to Long Island teams on Saturday, December 8. Gershow sets aside 5 or so 4'x4' bins of scrap aluminum for the teams to pick through for valuable robot raw material.
LaserTag Fundraiser/Team Building
The night before Kickoff we have a Laser Tag event as a combination fundraiser/team building.
Competition
We will compete at two Regional events this season!
The Tech Valley Regional
The SBPLI Long Island Regional
Pictures: