FIRST® Robotics Competition (FRC®)
Control System Hardware Setup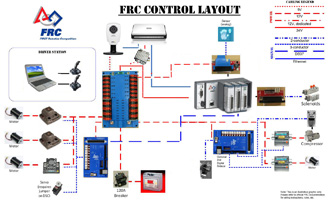 Follow the step-by-step directions in the
FIRST
Control System manual.
FRC 2011 Control System Manual
FRC 2010 Control System Manual
FRC 2009 Control System Manual
Power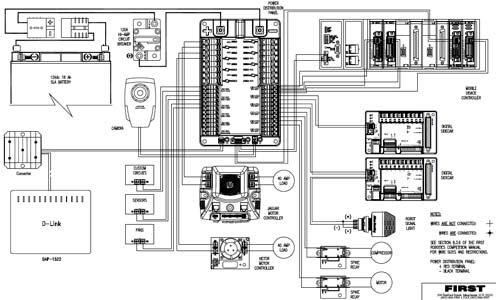 The system requires several different voltages
5v - for the Axis Ethernet camera and D-Link robot WiFi (special converter 12v-to-5v)
6v - selectable by Digital sidecar jumper for powering servos
12v - motors, solenoids, and analog sensors
24v - for the cRIO and optional 24v solenoids
Tools and materials needed include:
Wire strippers
Wire cutters
Wago tool
#6 ring terminal crimpers
#12 ring terminal crimpers
10mm nut driver
7/16 nut driver or rachet & 7/16 socket
Medium straight bladed screwdriver
#6 wire
#6 ring or clamp terminals
#18 wire
#12+ wire (for motors)
#12 ring terminals
A typical order for connecting everything is:
12V Battery to 120amp breaker/switch (requires #6 clamp or crimp terminals and tools)
12V battery and 120amp switch to Power Distribution Panel (PD) CAUTION: the nuts on the PD are metric NOT 1/4-20
PD to cRIO via 24v connector
PD to wireless bridge using special 12v connection
PD to camera using 5v connection
PD standard 12v breaker to wago connectors on the Analog Bumpers, Digital Sidecar, and Pneumatic Bumper
PD to Speed Controllers and spikes
Digital Sidecar to robot signal light
Solenoid wires to the solenoid bumper (optionally to a spike)
Control
37-pin cable from the cRIO to the Digital Sidecar
25-pin Dsub connectors for the Analog and pneumatic bumpers/breakout boards
Ethernet cables for the WiFi
Ethernet cable as a pit tether
PWM cables for speed controllers, servos, relays, solenoids, analog & digital sensors
Homemade/purchased CAN cables if optional CAN is used with Jaguar speed controllers(only)
I2C Interface communication connection
Connections to make:
Driver Station (DS) to cRIO - lots of IP Network Variations , simplest is DS via wireless to robot access point(AP), then AP Ethernet connection to cRIO port 1
Ethernet cross-over cable from camera to cRIO port 2
DB37 cable from cRIO module 4 to the Digital Sidecar (optionally from module 6 to a 2nd Digital Sidecar)
Servos attached to white PWM outputs. For Servos Only, 2-pin jumpers go beside the servo PWM pins to give them power.
PWM cables from Spikes to the Relay pins on a Digital Sidecar
PWM cables from the white PWM pins on the Digital Sidecar to Victor speed controllers
Jaguar speed controllers have three control options: PWM, Serial-CAN, Ethernet-CAN. see diagrams.

Get Microsoft Excel Viewer
Get Microsoft PowerPoint Viewer
Get WinZip