FIRST® Robotics Competition (FRC®)
History Main | 2000: CO-OPERTITION FIRST™ | 2001: DIABOLICAL DYNAMICS™ | 2002: ZONE ZEAL™ | 2003: STACK ATTACK™ | 2004: FIRST FRENZY - RAISING THE BAR™ | 2005: TRIPLE PLAY™ | 2006: AIM HIGH™ | 2007: RACK 'N' ROLL™ | 2008: OVERDRIVE™ | 2009: LUNACY® | 2010: BREAKAWAY™ | 2011: LOGOMOTION™ | 2012: REBOUND Rumble™ | 2013: ULTIMATE ASCENT™ | 2014: AERIAL ASSIST™ | 2015: Recycle Rush™ | 2016: Stronghold™ | 2017: Steamworks™ | 2018: POWERUP™ | 2019: DESTINATION: Deep Space™
2010: BREAKAWAY™
FIRST Game Description - FIRST Breakaway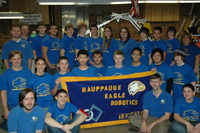 We began meeting every other Tuesday through the Fall. Mr. Dowd, the new technology teacher, joined us as a team advisor. The Booster Club also began meetings to address fundraising efforts.
Mr. Kraft was awarded tenure in October!

The Homecoming parade was cancelled due to rainy weather. We'd prepared our 2005 robot for the parade by adding the discarded jaws from 2008 to give it a fierce look, but we didn't get to use it. The fireworks were postponed a week too. The same day as Homecoming was the Deer Park Regional.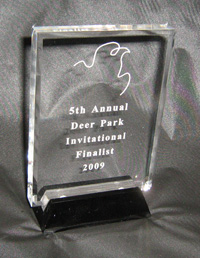 A couple of mentors helped with field setup at the Deer Park Invitational. We prepared a second robot for rookie team use, but the two 2010 rookies weren't yet together enough to bring a team of students, so it wasn't used.
Mr. McLeod had to put together all the field electronics, since FIRST didn't let us borrow the standard Field Management System (FMS) as part of the off-season field rental. He also controlled the field during the matches.
Nolan Conway was interviewed by cable channel 12 news and we got a mention in Newsday . Only one freshman was able to come, but he got to drive in a match. We ended the qualifying rounds with only two wins out of eight matches, but were chosen by Hicksville Team 1468 and Sachem Team 263 as part of the fourth alliance. It took 3 rounds to advance to the semi-finals, we swept our semi's to become finalists, but fell to first seed Plainview-Old Bethpage Team 353/Comsewogue Team 1751/Patchogue-Medford Team 329.

Safe Halloween actually occurred on the day of Halloween this year. It was a very warm day and a lot of trick-or-treaters came out to play the games all the high school clubs setup.
We employed two robots this year:
Our 2009 robot played catch where the youngsters bowled orbit balls across the floor and up a ramp into the robot's ball intake. When enough balls were scored, the robot spit them back out at the bowlers.
Our 2008 robot gripped a bin in it's arms and waved it up and down, while the robot dodged and costumed children tried to score orbit balls into the bin.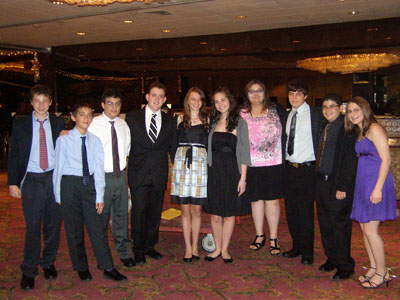 We had four students serving as escorts for honorees at the SBPLI 60/60 Gala fundraiser to help support our local Regional event. Southold and Plainview also brought their robots for display. Mr. McLeod was there as well as a representative for Northrop Grumman, as well as, Hauppauge, and our Superintendent, Pat Kriss, was also there representing Long Island Superintendents.
The week of Thanksgiving we met for our annual team photo for the high school yearbook.
Our Workshops this year included:
LabVIEW fundamentals hands-on workshop at Hauppauge High School in September
Our annual KOP Workshop held a week after Kickoff at Hauppauge High School
West Islip held a beginners Autodesk Inventor workshop. Gershow Recycling invited teams out to Medford to collect a donation of aluminum. They let us take 50 lbs of 1/4" plate.
Some of our mentors worked with rookie team Connectquot and we served as a parts supply for pneumatics and other parts and supplies we had in stock, but they, as a rookie team, did not.
We registered for SBPLI, then the rookie Regional at WPI (WPI awarded us a travel grant), but were put on the wait list for Championship, because only 20 slots were open by the time we were allowed to register. Those 20 slots were gone within 30 seconds of opening. Many teams were unable to get in. However, by the end of January, 50 slots originally spoken for, were given up by teams unable to raise the funds and FIRST offered the waitlisted teams the slots. So we were in. The late start threw our budget into disarray, though.
Fundraising this year:
Oldies concert
Candy sale
Bake sale
Clothing drive
Lotto for students to help raise funds for their own travel expenses
Italian Ices as students board the buses at the end of the school day
Kickoff and build season sent us into the typical frenzy of design and prototyping various competing mechanisms. Most of the design effort went into a flywheel kinetic energy kicking mechanism. A secondary research topic was a hanging hook, winch, and a telescoping arm to deliver the hook. This hanging mechanism was almost, but not quite integrated and succumbed to a later need for weightier stiffening of the frame. The drive team also decided they wanted to concentrate on playing the ground game hard through the end of the match. The drive train this year got short shift and we used the kitbot frame with 8" traction wheels in the front, omni's in the back. Unfortunately, long kit wheel extensions gave the frame a lot of flex and losing chains became a common occurrence that had to be dealt with.
Just before the robot went into the crate the kicker had a setback, but this year we were allowed to withhold 65 pounds, so the kicker stayed behind for more work. It was the barest and emptiest crate we'd ever shipped. Just a driving base with a disconnected arm mechanism. This meant that at our first Regional (WPI) we had to completely rebuild the robot before inspection. For some reason a lot of teams seemed to be in the same predicament this year.
Events: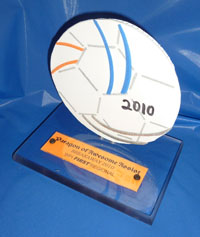 WPI regional in Worcester, MA was a second week, brand new event of 29 teams. We chartered a bus for the trip and had ~25 students attend. Our robot required a lot of pit work before it was ready. It's flexing frame threw chains regularly. The kicker worked fine, but there were sensor issues and coding fixes for the sensor issues that impaired it's abilities somewhat. Still, we finished as 7th Alliance captain and choose Team 716 and Team 2621 as our partners for the Finals. We took the defender position.

We then proceeded to play the longest quarterfinals we had ever played, finally outdoing our 5 match finals in 2006. We went for 6 matches, eventually losing the final tie on penalties. The drive team drove superbly, overcoming thrown chains, separating treads, fallen partners, balls stuck under our robot. Our drive team stood out by deciding to wear colorful boxer shorts and devising creative moves to the team introductions.
We were surprised with the WPI Gracious Professionalism Award. Primarily for working with Team 571 Paragon's programmers who also awarded us a team trophy for "Paragon of Awesome Assist."
By the time of SBPLI our robot had greatly improved, although programming still hadn't received more than a half hour of time on it...

We finished as 5th seed by continuing in our assumed defender role and joined with 2nd seed Bay Shore, Team 271, and Sachem, Team 263, to form the winning alliance. We were overwhelming in the finals and didn't lose a single match posting scores of 10-13 points each time. Bay Shore took the defender position and asked us to play the forward striker. We were a scoring machine driving ball after ball into the goals, breaking two of our wheels in the process.
We finished as Champions!
At Awards we again garnered the SBPLI Gracious Professionalism Award.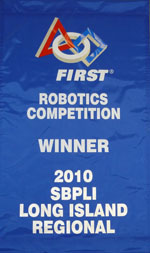 Atlanta Championships here we come!
This year we were assigned to play in the Archimedes division, this was the last division we had never played in. It's the furthest field from the dome entrance, but we got luck with our pit located three from the end nearest the doors leading from the pits to the dome, so our walk wasn't very bad. Having a pit close to the doors was great too, because we didn't have to negotiate the aisles filled with people and other robots. This was the first year qualifying matches began on Thursday afternoon. Robot Inspection began Wednesday evening only because Mr. Hughes happened to arrive earlier than the rest of us by riding with the Bay Shore truck. He was able to unpack and take the robot through most of inspection. Thursday morning the drive team just had to take the inspector through a final power check. Throughout the weekend we played very well, maintaining a ranking position in the teens. Until our final match when we got a ball stuck under us and in the process of trying to free it we tumbled over backwards into the restricted defensive zone and got DQ'ed. We were not chose for the elimination rounds, but cheered on our two Long Island partners playing on Galileo. Incidentally, this got us great seats for the finals and awards on Einstein.
Team 71, Hammond, presented us a team award for "Smooth Operator" in recognition of our drive team's colorful fashion statement with their shorts.
Back home we supported the Special Olympics two weeks later on a nice sunny Sunday with a robot game of catch for the athletes.
A Brentwood assistant principle came to talk to us about FRC as they are planning on starting a team next season. We made arrangements for the Brentwood tech teachers to come visit us at Hauppauge where we discussed the program logistics, tooling, and other requirements with them. We plan on loaning them a robot and student drivers to go talk up FRC at Brentwood to help recruit students for their program.
Sachem is trying an off-season at the beginning of June that we'll attend and support with field services.
Officer elections were held the evening of May 20 and during the school day a few days later. Both were sparsely attended so we'll need to run elections before AP testing begins.
Our year-end pot-luck party was May 26. Nolan produced a year-in-review video and Mrs. Kohilakis put together a slideshow from all the photos she'd taken of us. Our Seniors got team photos signed by the team members.
Here's what the students gave as thank you's to the Mothers, Mentors and Advisors:



Those are honorary team drive shorts the Advisors are expected to wear next year!
Pictures:
General Season Videos
FRC LIVE-Technology Roadmap Videos
Team 358 Code (Atlanta Final)
Officers
Seniors
Schedule of Events
KOP Vendor links
Special Thanks
2010 Sponsors
Work Files
WPI Regional Grant Award
SBPLI Chairman's Interview Feedback
49 Teams
(.xls, 57KB) attended the 2010 SBPLI Long Island Regional.
1808 Teams
(.xls, 1.3MB) participated in the 2010 FIRST season at 45 Regional events plus a special event structure in Michigan consisting of 7 District events and a state championship.
344 Teams
(.xls, 292KB) attended the 2010 Championship in Atlanta.