FIRST® Robotics Competition (FRC®)
History Main | 1992: MAIZE CRAZE™ | 1993: RUG RAGE™ | 1994: TOWER POWER™ | 1995: RAMP N' ROLL™ | 1996: HEXAGON HAVOC™ | 1997: TOROID TERROR™ | 1998: LADDER LOGIC™ | 1999: DOUBLE TROUBLE™ | 2000: CO-OPERTITION FIRST™ | 2001: DIABOLICAL DYNAMICS™ | 2002: ZONE ZEAL™ | 2003: STACK ATTACK™ | 2004: FIRST FRENZY™ | 2005: TRIPLE PLAY™ | 2006: AIM HIGH™ | 2007: RACK N' ROLL™ | 2008: OVERDRIVE™ | 2009: LUNACY® | 2010: BREAKAWAY™ | 2011: LOGOMOTION™ | 2012: REBOUND Rumble™ | 2013: Ultimate Ascent™ | 2014: Aerial Assist™ | 2015: Recycle Rush | 2016: Stronghold | 2017: Steamworks | 2018: PowerUp
2010: BREAKAWAY™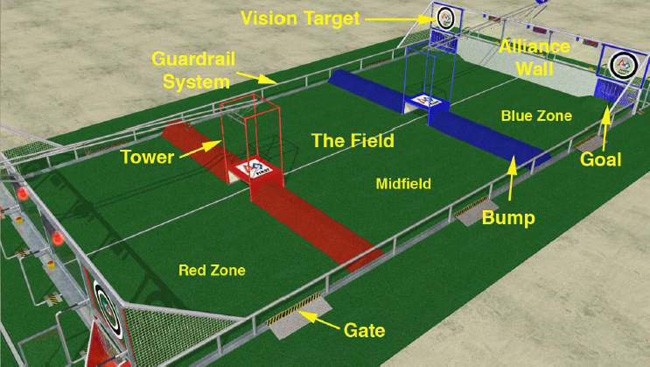 Two alliances of three teams each (a red alliance vs a blue alliance) compete on a 27' x 54' field divided into three areas by obstructions (bumps). A match begins with a 15 second autonomous period, followed by a 2 minute teleoperated period.
Each alliance earn points by scoring soccer balls in goals of their alliance color. Additional bonus points are earned for each robot hanging from towers or each other and not touching the field at the end of the match.
Scoring Summary:
For each Ball scored in a goal ..................1 point
Robot hanging on tower ...........................2 points
Robot hanging from another robot ...........3 points
2010 BREAKAWAY!™ 1-page Description
2010 FIRST Search Rules Archive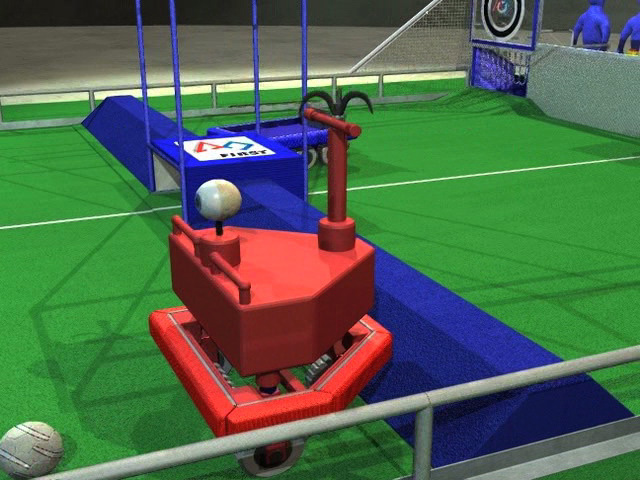 BREAKAWAY!™ Animation (.wmv, 33 MB)

48 Teams (.xls, 57KB) attended the 2010 SBPLI Long Island Regional.
1808 Teams (.xls, 1.3MB) participated in the 2010 FIRST season at 45 Regional events plus a special event structure in Michigan consisting of 7 District events and a state championship.
344 Teams (.xls, 292KB) attended the 2010 Championship in Atlanta.