FIRST® Robotics Competition (FRC®)
History Main | 1992: MAIZE CRAZE™ | 1993: RUG RAGE™ | 1994: TOWER POWER™ | 1995: RAMP N' ROLL™ | 1996: HEXAGON HAVOC™ | 1997: TOROID TERROR™ | 1998: LADDER LOGIC™ | 1999: DOUBLE TROUBLE™ | 2000: CO-OPERTITION FIRST™ | 2001: DIABOLICAL DYNAMICS™ | 2002: ZONE ZEAL™ | 2003: STACK ATTACK™ | 2004: FIRST FRENZY™ | 2005: TRIPLE PLAY™ | 2006: AIM HIGH™ | 2007: RACK N' ROLL™ | 2008: OVERDRIVE™ | 2009: LUNACY® | 2010: BREAKAWAY™ | 2011: LOGOMOTION™ | 2012: REBOUND Rumble™ | 2013: Ultimate Ascent™ | 2014: Aerial Assist™ | 2015: Recycle Rush | 2016: Stronghold | 2017: Steamworks | 2018: PowerUp
2002: ZONE ZEAL™
The ZONE ZEAL™ competition is composed of two phases: Qualification Matches and Elimination Matches. All matches are two minutes each. In each match, two teams work together as an alliance against another 2-team alliance to collect and score balls into goals as well as position the goals and robots on the field.

PHASE I: Qualification (Seeding) Matches
During qualification matches, randomly assigned teams are partnered to form alliances. Alliances last only for the duration of a match.

At Regional events, teams may be randomly allied with any other team at the event.
At The Championship Event, each team is assigned to one of four divisions and participates only with other teams in the same division.
Teams are ranked based on an equal number of qualification matches. Following the conclusion of the qualification matches, the top ranked teams form alliances and go on to compete in the elimination matches.
PHASE II:
Elimination Matches
Alliances formed for the elimination matches stay together for the remainder of the event. Each alliance is composed of three teams. One of the teams serves as an alternate in each match. Each team must compete in at least one elimination match in each series (quarterfinals, semi-finals, and finals) unless a team's robot is unable to move along the carpet under its own power.
Each series is best 2 out of 3.
At Regional events, eight (8) alliances compete in a series of elimination matches until one alliance is declared the event champion.
At The Championship Event, thirty-two (32) alliances (8 per Division) compete in a series of elimination matches, resulting in four Division Champion alliances and one Grand Champion alliance.
Basic Gameplay
During a match, the alliance scores points by:
Placing balls into goals and positioning robots and/or goals in the scoring zones at the end of the match.
Each alliance is comprised of two teams with each team having three students and one mentor. Each team competes using one team-built robot. There are sixty (60) size 5 soccer balls. There are three (3) goals with castered wheels around the bases that may be moved around the playing field. All goals start equally spaced across the center of the playing field. The playing field is broken up into 5 zones. The robots must compete within the bounds of the playing field while the students are located at stations just outside the playing field. Only students may return balls from the Alliance station to the playing field.
Playing Field Layout
At the start of each match, each alliance station contains ten (10) orange soccer balls. Twenty (20) yellow soccer balls will be centered along each side of the playing field. All balls may be used to score points.
Match Scoring
At the end of each match, points are awarded as outlined below.
- One (1) point for each ball if all conditions below are true:
Contained in or supported by a goal
Not in contact with or supported by your or your partner's robot (opposing alliance touching balls in a goal does not negate their value.)
Not in contact with the carpet
The goal is "in" your ball zone (the proper ball scoring zones are Zones 1, 2, 4, and 5)
- Ten (10) points for each goal in your goal zone (Zone 2 or 4)
- Ten (10) points for each robot in your robot zone. (Zone 1 or 5)
Point Accumulation and Qualification
During the qualification matches, all teams accumulate Qualification Points (QPs) that will later be used to help rank the teams.
For a given match, each team in the winning alliance receives triple the match score of the losing alliance in QPs. Each team in the losing alliance receives their match score in QPs. At the conclusion of the qualification matches, each team drops its lowest QP score and the teams are then ranked according to total QPs accumulated.
YouTube Video--FIRST 2002 ZONE ZEAL™ Championship Semi-Finals Match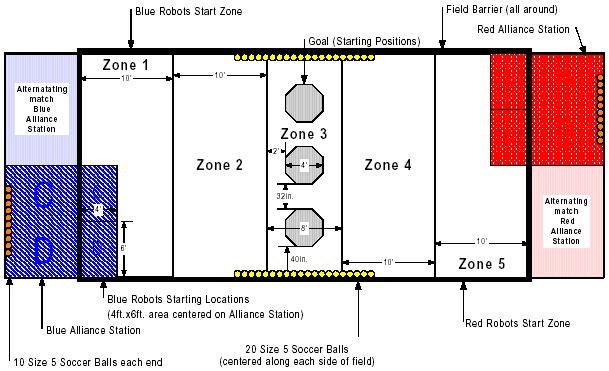 39 Teams (.pdf, 9KB) attended the 2002 SBLPI LI Regional.
290 Teams (.pdf, 485KB) participated in the 2002 FIRST season at 17 Regional events.
642 Teams (.pdf, 212KB) participated in the 2002 FIRST season at 17 Regional events.