Upcoming Events:
Feb 19, 2018 7:00 AM:
Mid-winter Recess
Feb 20, 2018 11:59 PM:
Stop Build
Mar 1, 2018 8:00 AM:
Central NY Regional
Full event list
FIRST® Robotics Competition (FRC®)
History Main | 1992: MAIZE CRAZE™ | 1993: RUG RAGE™ | 1994: TOWER POWER™ | 1995: RAMP N' ROLL™ | 1996: HEXAGON HAVOC™ | 1997: TOROID TERROR™ | 1998: LADDER LOGIC™ | 1999: DOUBLE TROUBLE™ | 2000: CO-OPERTITION FIRST™ | 2001: DIABOLICAL DYNAMICS™ | 2002: ZONE ZEAL™ | 2003: STACK ATTACK™ | 2004: FIRST FRENZY™ | 2005: TRIPLE PLAY™ | 2006: AIM HIGH™ | 2007: RACK N' ROLL™ | 2008: OVERDRIVE™ | 2009: LUNACY® | 2010: BREAKAWAY™ | 2011: LOGOMOTION™ | 2012: REBOUND Rumble™ | 2013: Ultimate Ascent™ | 2014: Aerial Assist™ | 2015: Recycle Rush | 2016: Stronghold | 2017: Steamworks | 2018: PowerUp
2018: Power Up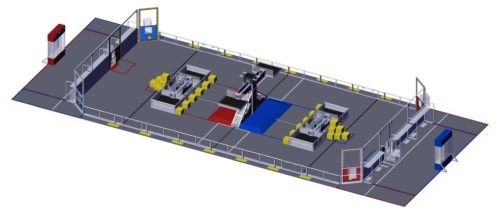 Each three-team alliance has three ways to help defeat the boss:
1. Owning the scale or their switch. Ownership occurs when the scale or alliance's switch is tipped in their favor. Robots collect and deliver power cubes to gain ownership.
2. Playing power ups. Alliances exchange power cubes for power ups. Power ups provide a timed advantage during the match. There are three power ups that can be played: Force, Boost, and Levitate.
3. Climbing the scale tower. Robots work together to climb the scale tower to face the boss.
Autonomous Period:
Robots operate independently following preprogrammed instructions for the first fifteen seconds of the match.
Alliances score points by:
Reaching their own autonomous line
Gaining ownership of the scale or their switch
Teleoperated Period:
Operators take control for the final two minutes and fifteen seconds of the match.
Alliances continue to score points by:
Gaining ownership of the scale or their switch
Delivering power cubes to the alliance's vault
Using power ups for a timed advantage
Parking on the scale platform or climbing the scale to face the boss
The alliance with the highest score at the end of the match defeats the boss and wins.
63 Regional events (1 additional Mexico regional was canceled due to earthquake damage)
85 District events
10 District Championships
2 World Championships (Houston & Detroit)
The ten District areas:
Michigan
Mid-Atlantic Region (MAR) DE, NJ, eastern PA
Pacific Northwest - WA & OR & AK
New England - CT, RI, MA, VT, NH, ME
Chesapeake - MD, DC, VA
Georgia
Indiana
North Carolina
Ontario, Canada
Israel