FIRST® Robotics Competition (FRC®)
History Main | 1992: MAIZE CRAZE™ | 1993: RUG RAGE™ | 1994: TOWER POWER™ | 1995: RAMP N' ROLL™ | 1996: HEXAGON HAVOC™ | 1997: TOROID TERROR™ | 1998: LADDER LOGIC™ | 1999: DOUBLE TROUBLE™ | 2000: CO-OPERTITION FIRST™ | 2001: DIABOLICAL DYNAMICS™ | 2002: ZONE ZEAL™ | 2003: STACK ATTACK™ | 2004: FIRST FRENZY™ | 2005: TRIPLE PLAY™ | 2006: AIM HIGH™ | 2007: RACK N' ROLL™ | 2008: OVERDRIVE™ | 2009: LUNACY® | 2010: BREAKAWAY™ | 2011: LOGOMOTION™ | 2012: REBOUND Rumble™ | 2013: Ultimate Ascent™ | 2014: Aerial Assist™ | 2015: Recycle Rush | 2016: Stronghold | 2017: Steamworks | 2018: PowerUp
2008: FIRST OVERDRIVE™
A MATCH is 2 minutes and 15 seconds long. A HYBRID PERIOD starts each MATCH in which the ROBOTS are controlled by pre-programmed instructions and/or transmitted selection from the ROBOCOACH. The HYBRID PERIOD is followed by the TELEOPERATED PERIOD during which the DRIVERS assume control of the robot.
Scoring:
-- Hybrid period scoring is 4 pts for each quadrant line crossed by a robot, 8 pts for knocking a trackball off the overpass.
-- Teleop period scoring is 2pts for each crossing of the alliance finish line after a lap of the field, 8 pts for hurdling a trackball over the overpass after each ball laps the field, 2 pts for each trackball crossing of the alliance finish line (untouched by an alliance robot) after it laps the field.
Robot Restrictions:
Starting size limit: 28"x38"x60"
Size limit during play: 80" at widest
Weight Limit: 120 lbs + battery + 15lb bumpers
$3,500 limit, $400 limit for any single component
Up to 15 lb bumpers allowed outside starting size and weight limit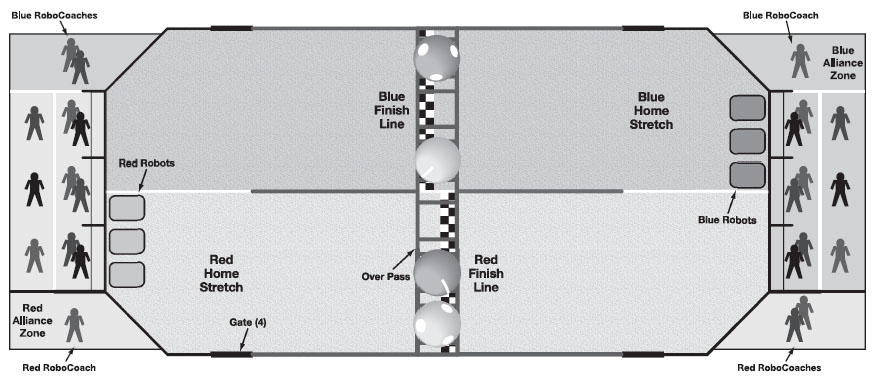 2008 OVERDRIVE™ 1-page Description
2008 FIRST Search Rules Archive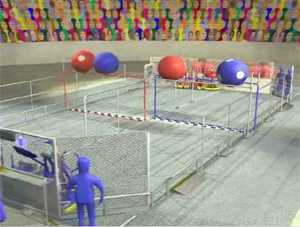 OVERDRIVE™ Animation (.avi, 70 MB)
-- Image courtesy of NASA

46 Teams (.pdf, 19KB) attended the 2008 SBPLI Long Island Regional.
340 Teams (.pdf, 732KB) attended the 2008 Championship in Atlanta.
1501 Teams (.pdf, 267KB) participated in the 2008 FIRST season at 41 Regional events.