Upcoming Events:
Mar 1, 2018 8:00 AM:
Central NY Regional
Mar 14, 2018 8:00 AM:
Tech Valley Regional
Mar 29, 2018 7:00 AM:
Spring Recess
Full event list
FIRST® Robotics Competition (FRC®)
History Main | 1992: MAIZE CRAZE™ | 1993: RUG RAGE™ | 1994: TOWER POWER™ | 1995: RAMP N' ROLL™ | 1996: HEXAGON HAVOC™ | 1997: TOROID TERROR™ | 1998: LADDER LOGIC™ | 1999: DOUBLE TROUBLE™ | 2000: CO-OPERTITION FIRST™ | 2001: DIABOLICAL DYNAMICS™ | 2002: ZONE ZEAL™ | 2003: STACK ATTACK™ | 2004: FIRST FRENZY™ | 2005: TRIPLE PLAY™ | 2006: AIM HIGH™ | 2007: RACK N' ROLL™ | 2008: OVERDRIVE™ | 2009: LUNACY® | 2010: BREAKAWAY™ | 2011: LOGOMOTION™ | 2012: REBOUND Rumble™ | 2013: Ultimate Ascent™ | 2014: Aerial Assist™ | 2015: Recycle Rush | 2016: Stronghold | 2017: Steamworks | 2018: PowerUp
2014: Aerial Assist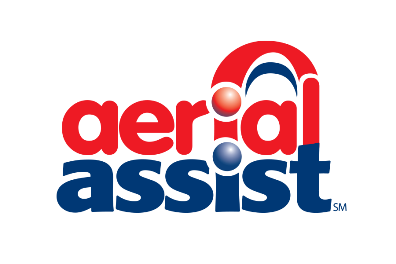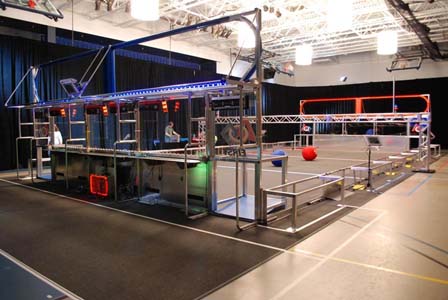 AERIAL ASSIST (SM) is played by two competing Alliances of three robots each on a flat 25 x 54 foot field, straddled by a truss suspended just over five feet above the floor. The objective is to score as many balls in goals as possible during a two (2)-minute and 30-second match. The more Alliances score their ball in their goals, and the more they work together to do it, the more points their Alliance receives.
The match begins with one 10-second Autonomous Period in which robots operate independently of driver. Each robot may begin with a ball and attempt to score it in a goal. Alliances earn bonus points for scoring balls in this mode and for any of their robots that move in to their zones. Additionally, each high/low pair of goals will be designated "hot" for five seconds, but the order of which side is first is randomized. For each ball scored in a "hot" goal, the Alliance earns additional bonus points. For the rest of the match, drivers remotely control robots from behind a protective wall. Once all balls in autonomous are scored, only one ball is re-entered in to play, and the Alliances must cycle a single ball as many times as possible for the remainder of the match. With the single ball, they try to maximize their points earned by throwing balls over the truss, catching balls launched over the truss, and scoring in the high and low goals on the far side of the field.
Alliances receive large bonuses for "assists," which are earned for each robot that has possession of the ball in a zone as the ball moves down the field. Points are awarded for each action per the table below.

2014 FIRST Game Rules
- includes Manuals, Team Updates, Q&A, FRC Blog
KOP
2014 Awards List

50 Teams attended the 2014 SBPLI Long Island Regional.

400 Teams attended the 2014 Championship in St. Louis.

2707 Teams participated in the 2014 FIRST season at 99 separate official events:
54 Regional events
40 District events
4 District Championships
1 World Championship
The four District event structures were:
Michigan consisting of 11 District events and a state championship
Mid-Atlantic Region (MAR) DE, NJ, eastern PA consisting of 6 District events and a MAR championship
Pacific Northwest - WA & OR and a PNW Championship
New England - CT, RI, MA, VT, NH, ME and a NE Championship